DATA - De jaarlijks terugkerende Top2000 was voor mij altijd monument van muzikaal conservatisme. En toch luisterde ik.
Vorig jaar al moest ik toegeven dat de Top2000 toch minder conservatief was dan ik dacht. Of beter gezegd, de stemmers natuurlijk. Maar een goede manier om dit in een grafiek uit te drukken, toch mijn favoriete bezigheid, had ik nog niet gevonden. Tot dit jaar.
Dus hier het bewijs dat de Top2000 de laatste jaren meegroeit met de tijd.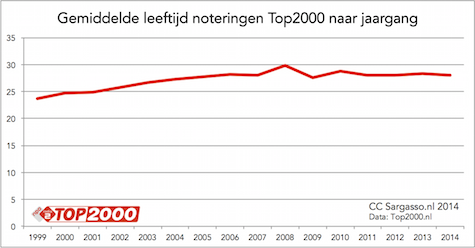 Eenvoudigweg door het verschil te nemen per nummer tussen het jaar van uitgave en het jaar waarin het in de top2000 stond en dat over alle nummers te middelen, is de gemiddelde leeftijd van de nummers te bepalen. En blijft tegenwoordig gelijk. Dus "verjongt" de top2000 net zo snel als de tijd voortschrijdt. Met dien verstande dat het natuurlijk wel met een stevige "historie" begon.
Overigens heb ik ook nog een variant gemaakt waarin hogere noteringen meer gewicht kregen om te zien of de verjonging alleen in de onderste regionen gebeurden. Maar die grafiek gaf exact hetzelfde verloop. Alleen de top 10…
De historie die de top2000 meesleept laat zich mooi zien als je de nummers per editie ordent naar decennium van verschijnen: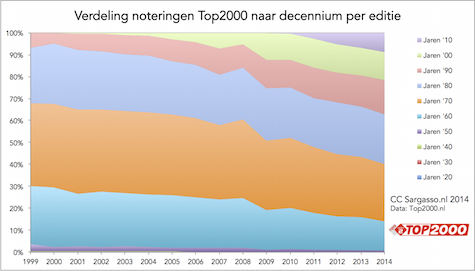 Maar ook daar zie je nu het meegroeien met de tijd.
Bedenk echter wel dat zestien edities van de top2000 bij elkaar maar 3.906 verschillende nummers bevatten (i.p.v. de mogelijke 32.000).