DATA - This week the 60th Eurovision Song Contest is held in Vienna. An event watched by millions all over the world.
We've analyzed the last 40 years, from 1975 to 2014, to see if the proximity of countries has any influence on the voting. Our conclusion: yes, it does.
What we did was calculating the distance between all the capitals of the countries that participated (or voted) in the last 40 years. Why that period? Because in 1975 the current voting system was introduced. So these years can be compared.
Next we calculated how many points a particular country gave to another country and divided that by the times they voted. If they gave no points but could have, a zero was used.
And then we plotted these date in a graph. On the horizontal bar the distance between the capitals. On the vertical bar the average points given (in finals and semi-finals).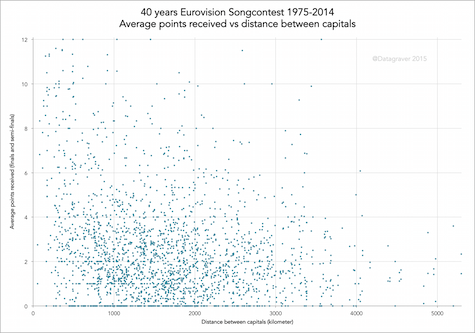 So? Is there a trend? If you look hard, you can see more points higher up on the left hand side. But it's difficult. So we add a simple, linear, trend line.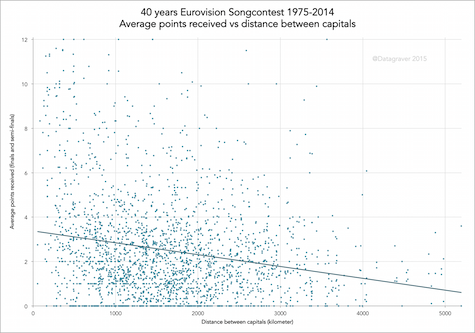 Based on this, the conclusion could be that countries that are closest to each other give roughly three times as many points than countries far away from each other.
But since this is a very crude way of plotting a trend, we've also did one with a so called order 6 polynomial trend line. Then you get this: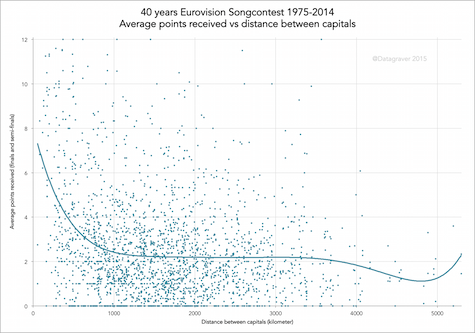 This shows that the favorites effect is strongest in the first 1.000 kilometers from home. After that it wanes.
But the conclusion stands. The closer countries are, the higher the points.
You can have a closer look per country in the following visualization. Select Greece or Ukraine for the best effect (box in the upper right corner):

A direct link to this viz gives you a full screen version.
And while we were at it, we also created a matrix with all the averages between countries. This time only for all the finals.
You can use it to predict Saturday's outcome.
Please not, if you click on it, the full version is over 2Mb.

And last but not least, because we had the data anyway, a list of countries that participated in at least 10 finals order by the average points they got for all votes received.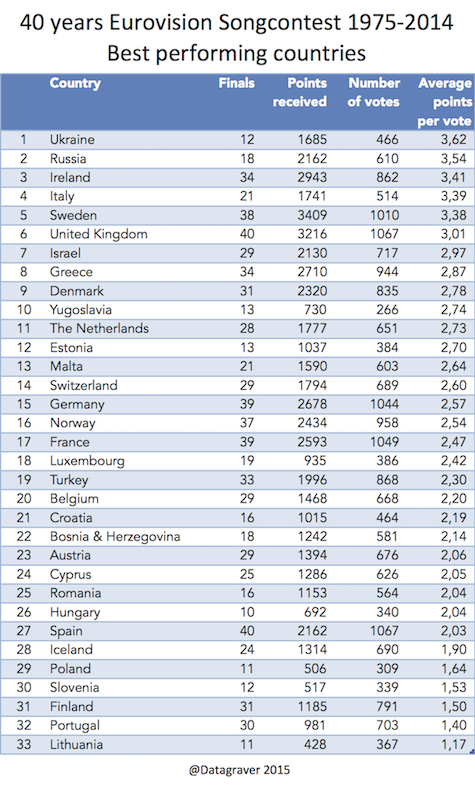 Let's see if the upcoming finale changes the order.
NB: No contestants were harmed during the making of this post.